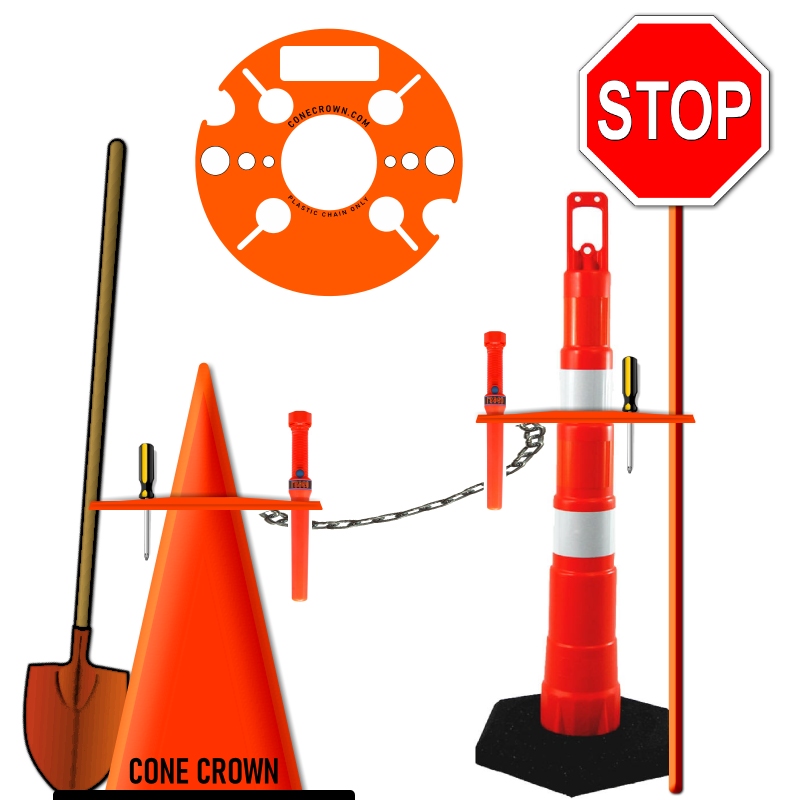 Cone Crowns are innovative and versatile tool holders that revolutionize the way work is done in various industries. They are specifically designed to enhance safety and efficiency in road construction zones, airports, school zones, parking lots, and many other locations.
By utilizing Cone Crowns, you can effortlessly create a more organized and secure work environment for both your employees and the public. These tool holders are particularly useful for infrastructure repair and replacement projects, where maintaining a systematic approach is crucial.
Considered as the "Swiss Army Knife" of tool holders, Cone Crowns offer a wide range of applications. They serve as a convenient TOOL HOLDER for flagger flags and traffic wands, ensuring easy access and preventing loss or misplacement. Additionally, Cone Crowns function as a TOOL HOLDER for small hand tools such as trowels and screwdrivers, keeping them within reach at all times.
For long handle tools like shovels, brooms, rakes, bull floats, and lutes, Cone Crowns act as an efficient TOOL HOLDER, keeping long handled tools off the ground. This not only saves time but also reduces the risk of accidents caused by loose tools.
In addition to their tool holding capabilities, Cone Crowns can be used to QUICKLY SET UP temporary barricades or perimeters. By combining them with traffic cones and plastic chains, you can easily create a visible and effective barrier, ensuring the safety of both workers and pedestrians.
Installing Cone Crowns is a breeze. Simply place them over the top of a traffic cone or tiered channelizer, and they are ready to be utilized. These orange safety disk serve multiple functions, making it a practical and efficient tool.
Cone Crowns are an indispensable tool for various industries, offering convenience, safety, and efficiency. By investing in these versatile tool holders, you can significantly improve your work processes and create a secure environment for everyone involved.
CONE CROWN TOOL HOLDER FEATURES
Constructed with highly durable, lightweight ABS plastic
(4) ports for traffic / marshalling wands
(4) slots for plastic chain attachment
(5) various diameter tool ports for screwdrivers, pliers and even STOP / SLOW Paddle Posts
(2) open side slots (rests), 180° apart, for long handle tool storage
Convenient in-mold handle
slim 1/4″H x 11.5″D design saves storage space
Easy to transport and store
MADE IN the USA
Recyclable: If you somehow managed to break your Cone Crown caddy, you can recycle it.